Learn & Practice: Big Interview
Big Interview is an online system that combines training AND practice to help improve your interview technique and build your confidence. You have at your disposal a variety of tools including:
Challenging, virtual mock interviews for all experience levels and dozens of industries
A database of thousands of interview questions with tips on how to answer them
The ability to rate and share your interview answers for feedback
A comprehensive video training curriculum covering all aspects of landing a job
A step-by-step interview Answer Builder for crafting answers to behavioral questions
Practice Interviews
The Toppel Career Center has several options to help prepare you for your upcoming interview: 
Utilize Big Interview to complete one of our 14 custom interviews and submit your recording for career coach feedback.
Follow these instructions to access one of our custom interviews.

Record yourself in a comfortable setting whenever you want at any time of the day.

Feedback is provided in no more than 3-5 business days.
If one of our pre-created interviews on Big Interview does not fit your needs, browse the practice interviews and question library in your Big Interview dashboard to record answers to the interview question/s of choice using these instructions.
Email any interview responses you'd like feedback on to

 coaching.toppel@miami.edu.

Record yourself in a comfortable setting whenever you want at any time of the day.

Feedback is provided in no more than 3-5 business days.
Meet with a career coach during drop-in hours for a 20-minute practice interview where you will receive feedback to help you prepare.
Drop-in hours are Monday-Friday, 10:00 AM – 4:00 PM 

 

Meetings can be in person or virtual at

https://tinyurl.com/toppel

 

 
Employer Practice Interviews & Critiques (EPIC)
The Employer Practice Interviews & Critique (EPIC) program is an exciting way to gain a competitive edge by meeting with actual employers. Students are paired with a recruiter for a 30-minute resume critique or practice interview. This program occurs each fall and spring semester and usually coincides with the Job & Internship Expo.
To reserve your space, log in to Handshake and search for "EPIC" under the Interviews tab found in the left-hand column.
Please note: there are no drop-in appointments for this event. Business attire is required. If you do not have an approved resume in the system and still want to participate, please email toppel@Miami.edu or call 305-284-5451.
Informational Interviews
Informational interviews are a way to request further information about a career you might be interested in or a company you might want to work for. It is not meant to be a job interview. 
Check out this guide that our Toppel staff has put together to conduct an informational interview! 
Learn how to get the most out of an informational interview.
What to Wear
Your outfit choice for an interview or typical workday will vary based on industry and even company. The traditional recommendation is to wear conservative colors, like gray, black, or charcoal; however, other industries may embrace brighter colors or more informal attire. In most cases, however, you will be better off dressing professionally than being underdressed. We urge you do your research on your specific industry and organization. For example, for jobs in finance, the traditional attire tends to be more appropriate; however, if you're interviewing at a gallery or a start-up tech company, you may be better off wearing something more casual. Check out our Pinterest boards for additional looks appropriate for your job search.
The Toppel Career Center is committed to helping students obtain affordable professional attire through our various partnerships with JCPenney, Dress for Success/Suited for Success, Hyde Closet, and Nuuly.
JCPenney Suit-Up takes place each semester and provides students and alumni with a coupon code that can be applied to a variety of professional attire and accessories. The latest Suit-Up information can be found on Handshake.
Dress for Success/Suited for Success is a local organization that provides free professional attire to those experiencing financial hardship. The Toppel Career Center can refer students to receive attire with at least three days' notice of needing the items. Students must also be able to transport themselves to their downtown Miami location to obtain the items. Please email us if you would like to be referred.
Hyde Closet styles and delivers complete outfits on your schedule. Offering premium attire on-demand for male-presenting individuals, Hyde takes the guesswork out of dressing for success. Each Hyde rental box includes a consultation with a professional stylist, who handpicks a complete outfit, containing seven items from luxury brands, customized to your needs. Wear it for a week and return it. Shipping is complimentary both ways and Hyde handles the dry cleaning. The University of Miami has partnered with Hyde Closet to give all students ongoing discounts with the code MIAMI25. Click here and get started with a new outfit on demand!
Nuuly is a subscription clothing rental service for female-presenting individuals that allows you to select and rent any 6 items from 300+ brands for $88 a month. The University of Miami has partnered with Nuuly to give all students a 25% discount off the first month with the code MIAMI25. They've curated 15,000+ styles for you to layer into your life from business professional dresses to polished sets and suits in sizes ranging from petite to 5X. There are no late fees, damage fees, or fees to pause or cancel. Click here to start choosing items for your rental box. For a free consultation with a professional stylist (provided by Hyde Closet), click here.
Free Wardrobe Consultations with a professional stylist provided by Hyde Closet. Adjusting your wardrobe for the workplace can be challenging, but Hyde makes fashion easy and accessible. Use this link to take advantage of a free 15-minute wardrobe consultation to help you dress your best for your next interview or event.
Please email us if you have any questions about these options.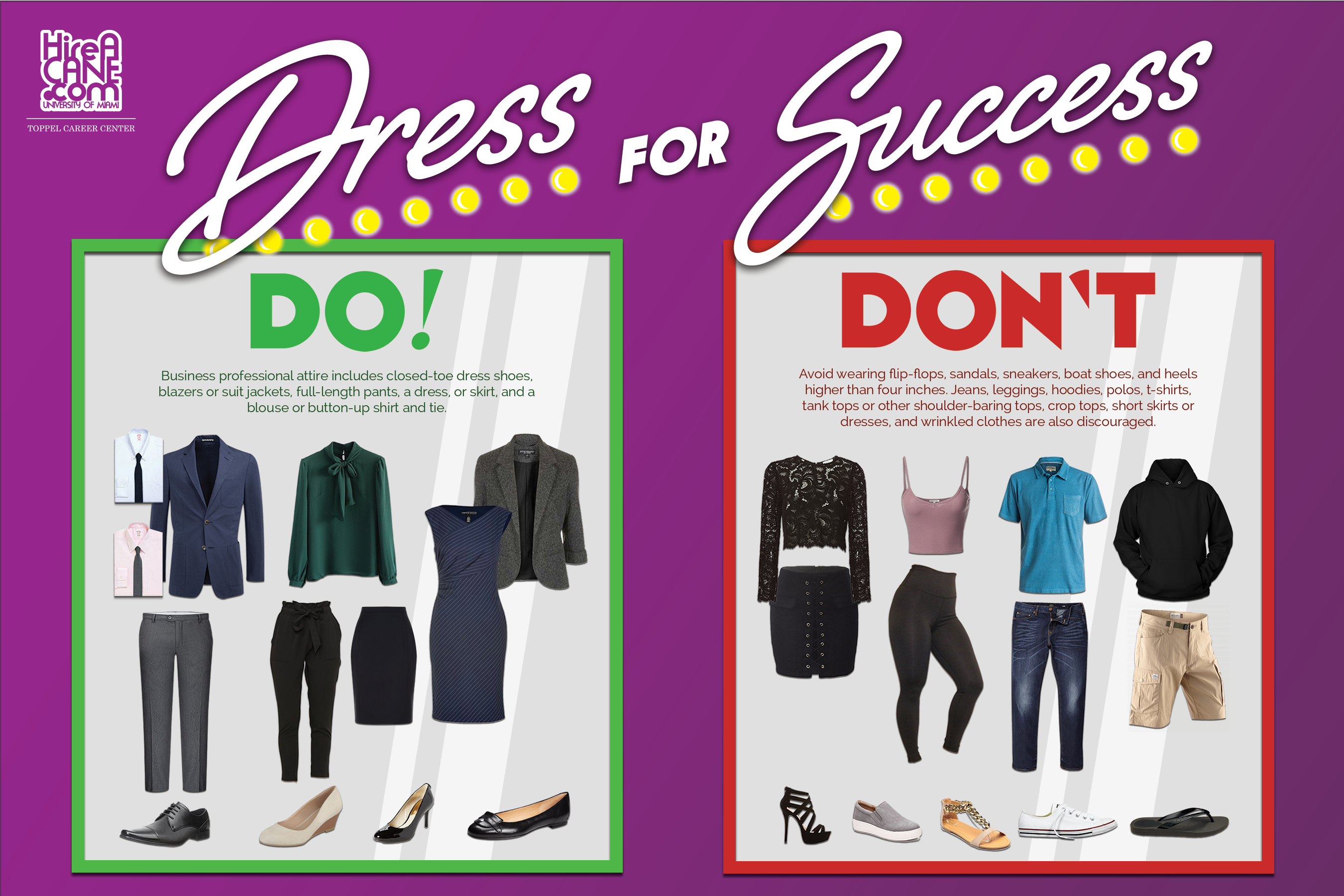 Professional Headshot Photo Booth
The Toppel Career Center now offers professional headshots! With our new self-service professional headshot photo booth, you can stop by any time Monday – Friday from 10 AM – 4 PM to take your headshot with no appointment needed. The headshot photo booth is offered to all UM students (undergraduate and graduate), as well as to UM faculty, staff, and alumni.