Big Interview
Big Interview is an online system that combines training AND practice to help improve your interview technique and build your confidence. You have at your disposal a variety of tools including:
Challenging, virtual mock interviews for all experience levels and dozens of industries
A database of thousands of interview questions with tips on how to answer them
The ability to rate and share your interview answers for feedback
A comprehensive video training curriculum covering all aspects of landing a job
A step-by-step interview Answer Builder for crafting answers to behavioral questions
Informational Interviews
Informational interviews are a way to request further information about a career you might be interested in or a company you might want to work for. It is not meant to be a job interview. 
Check out this guide that our Toppel staff has put together to conducting an informational interview! 
Learn how to get the most out of an informational interview.  
Practice Interviews
If you've never had an interview before--or just need some additional practice--meet with an advisor to practice your interviewing skills so you can get more comfortable speaking about your skills, strengths, and achievements. They are tailored to jobs, internships, or graduate or professional schools.
All practice interviews can be recorded and constructive feedback is provided immediately after your interview. The recording will be sent to you, this means that you'll be able to review it at any point in time to get a fuller picture of your interview strengths and areas for growth.
Schedule a 60-minute practice interview with our front desk assistants in-person or via Zoom or go to in-person or virtual drop-in advising for some quick interview assistance.
Employer Practice Interviews & Critiques (EPIC)
The Employer Practice Interviews & Critique (EPIC) program is an exciting way to gain a competitive edge by meeting with actual employers. Students are paired with a recruiter for a 30-minute resume critique or practice interview. This program occurs each fall and spring semester and usually coincides with Career Expo.
To reserve your space, log in to Handshake and search for "EPIC" under the Interviews tab found in the left hand column.
Please note: there are no drop-in appointments for this event. Business attire is required. If you do not have an approved resume in the system and still want to participate, please contact Jennifer Perez or call at 305-284-1989.
What to Wear
Your outfit choice for an interview or typical workday will vary based on industry and even company. The traditional recommendation is to wear conservative colors, like gray, black, or charcoal; however, other industries may embrace brighter colors or more informal attire. In most cases, however, you will be better off dressing professionally than being underdressed. We urge you do your research on your specific industry and organization. For example, for jobs in finance, the traditional attire tends to be more appropriate; however, if you're interviewing at a gallery or a start-up tech company, you may be better off wearing something more casual. Check out our Pinterest boards for additional looks appropriate for your job search.
If you are a student who is experiencing financial hardship and needs professional attire for an upcoming interview or job, the Toppel Career Center offers a variety of resources to help. Please email us with as much advance notice as possible, and we will share what resources are currently available.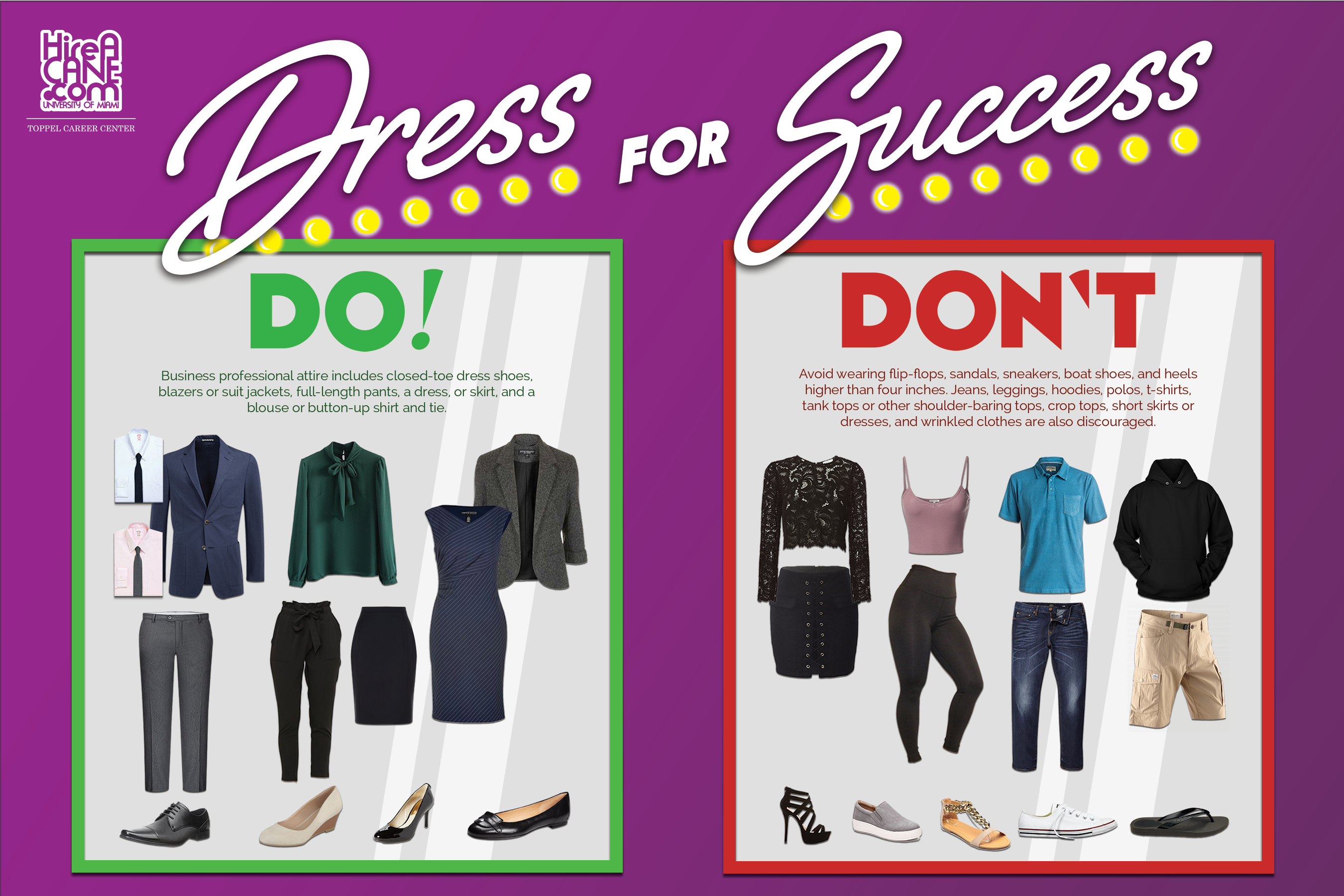 Professional Headshots
Headshots are an important element of your professional brand. Looking for the right steps to take the perfect picture? Check out this guide for taking Headshots at Home.