Put your organization in the spotlight while supporting programming and new initiatives for our students! Providing financial resources allows your organization to support activities that benefit UM students. Your organization will make an impact and as a result will enjoy an increased level of visibility and branding on campus. Contact Ali Rodriguez by email or at 305-284-1819 for more information or to become a Toppel Partner or Event Sponsor today!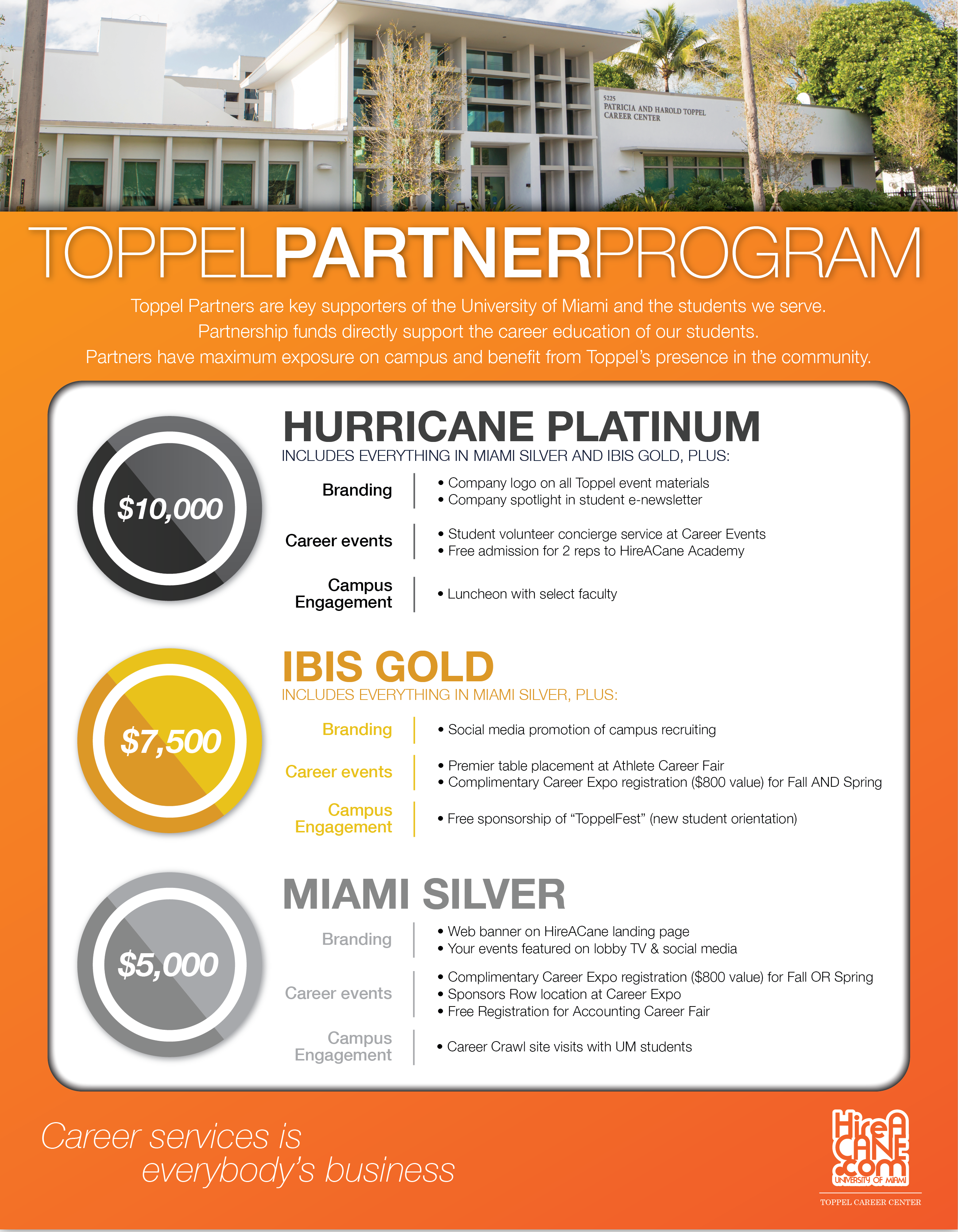 *Note: All partnership levels are accepted on a rolling basis and include a one-year term. If you have an interest in specific career fairs, we also offer event sponsorships.
Career Event Sponsorships
Event sponsorships puts you top of mind for UM students during career-related events like industry career fairs and meet-ups. This one-time event funding also gives you the opportunity to make an impact on our students by making possible events that help them secure plans for their future. If you would like to get in front of your target market and make an impact on the students in our university community, sponsor a career event.
Career Expo or Fair Green Premier Sponsor - $2,500
Career Expo or Fair Orange Priority Sponsor - $1,500
Career Meet-Up Employer Sponsor - $1,000
Still not sure?
As you can see, Toppel offers multiple ways for employers to offer sponsorship via our signature Partner Program with three levels of annual giving and our Career Event Sponsorships.
Both options provide significant opportunities to make meaningful contact with our students, faculty, and staff. They also provide visibility on a variety of platforms:
Toppel's social media reach includes more than 450K impressions annually
Toppel Insider (e-newsletter) has more than 30,000 subscribers
Our state-of-the-art career center features our partners on large-screen TVs in the main lobby of the building
HireACane.com averages 27,000 visits per month