These alumni involvement opportunities will allow you to develop genuine relationships with UM students. Feel free to get involved in any or all of these ways: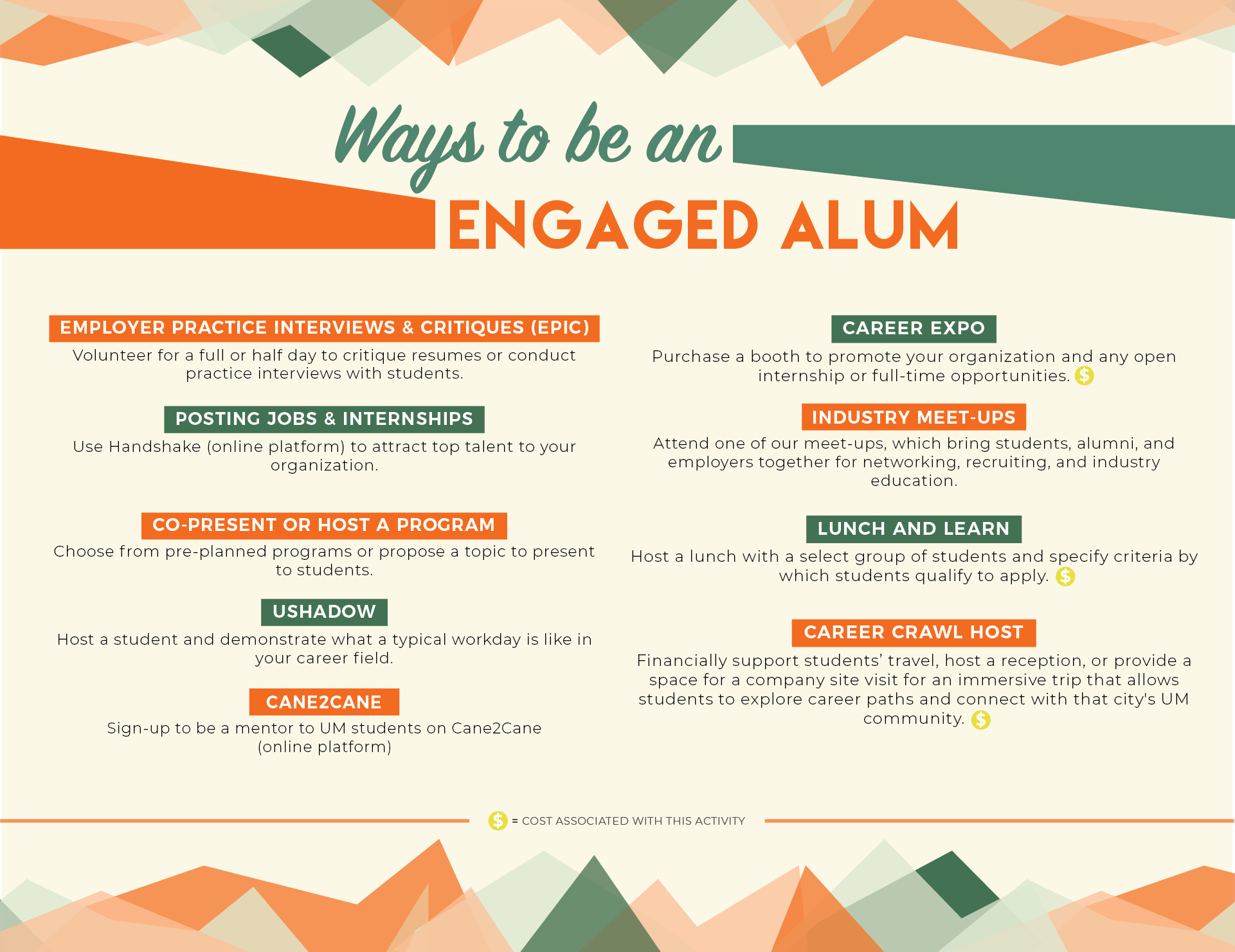 We're happy to talk through these options with you! Please don't hesitate to contact us if you have any questions or would like any assistance registering for these opportunities. For more on career fairs and meet-ups, check-out our events page. 
Are you hoping to hire a UM student at your organization? If so, take a look at our Talent Engagement Opportunities for ways to optimize your recruiting strategy.
Are you looking to recieve career assistance? All alumni are welcome to attend our career programs and events for their personal career development. We also offer drop-in advising to all alumni. If you have graduated within the last three years, we offer one-on-one advising by appointment as well (email or call us at 305-284-5451 to schedule). If you graduated more than three years ago, please see the resources available from the University of Miami Alumni Association.
Cane2Cane
Cane2Cane is a mentorship program coordinated by the University of Miami's Toppel Career Center. The Cane2Cane mission is to connect current UM students with alumni for opportunities to explore career paths, prepare for the workplace, and establish new connections in their network.
As an alumni mentor, you can decide how you'd like to be involved in Cane2Cane, such as sharing industry trends, discussing work/life balance, helping with resume or interview prep, and more! You will also have access to resources such as articles, webinars, and other tools. 
To join, visit the Cane2Cane website and click "Join the Community."
Tell Us How You Want to Be Involved!
Looking for another way to be involved with our students? Fill out this form to tell the University of Miami the ways in which you would like to volunteer and help your fellow 'Canes with us and across campus.